Kudos
The sexual tension between Victoria and Lord M on Victoria is fabulous. For the first two episodes I found myself wanting them to get together (or least kiss) even knowing the end result is her marrying Albert. Well done. But now that has all changed with Albert in the picture. Him and Victoria together is super sexy. I could have watched them dance for an entire episode.
The friendship between New Girl's Winston and CeCe has been one of the best relationships on the show as of late. For starts, their hand gestures are adorable and then there is this…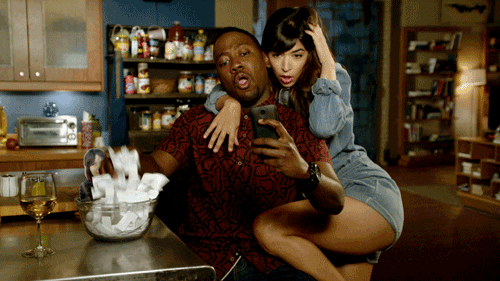 Crazy Ex-Girlfriend's latest gem is "Let's Have Intercourse." Every interaction between Rebecca and Nathienal has been pure gold. Can they please get together?
Riverdale is the teen drama that's been missing from my TV lineup.
Vampire Diaries has had an abundance of Elena flashbacks (most importantly, Delena's dance at the Miss Mystic Falls pageant) and now we've heard that Nina Dobrev will be returning for the finale. Excuse me while I squeal with glee. Delena forever!
I enjoyed the twist on This is Us when Kevin showed up to a third woman's door after an inspirational speech from Toby. Even better yet was discovering she is his ex-wife. "Kevin was married?!?" American collectively gasped.
Grey's Anatomy came back from winter hiatus with an episode focusing only on Arizona, Bailey and Jo taking care of an inmate at a maximum security prison. Normally I would hate this, you've left us hanging on the Alex cliffhanger for almost two months, I want answers. But this episode was well done and an emotional rollercoaster. Did I cry like a baby pretty much the entire second half of the episode? Why yes, yes I did.
Aziz Ansari is this season's best SNL host by far. Just watch this and you'll know why.
Criticism
On The Royals why does Robert look so much older than Liam and Eleanor? He looks about 40. He can't really be that much older than the twins, right?
Why did This is Us even have that episode that took place right before the pilot? It didn't move the plot forward, told us nothing new or interesting and for some reason gave the backstory no one asked for on the firefighter who found Randall.
Are You the One? switched up its format once again for season 5. If they black out they lose half their prize and there are 11 couples instead of the usual 10. Despite there being more contestants, the final prize is the same and they have the same amount of match up ceremonies to figure everything out. It seems a bit  cruel, like they are setting them up to fail. On past seasons the contestants have just barely squeaked by and won the money, I don't think it was necessary to make it more difficult.
Does anyone care about the servants on Victoria? Okay. Just checking.
Nasville is back and unfortunately so is Maddie's teen angst. She is such a brat. She makes me question why I still watch this show.
Can someone explain to me how Topanga (Girl Meets World) who passed the bar in the state of New York would be able to practice law in London, an entirely different country?